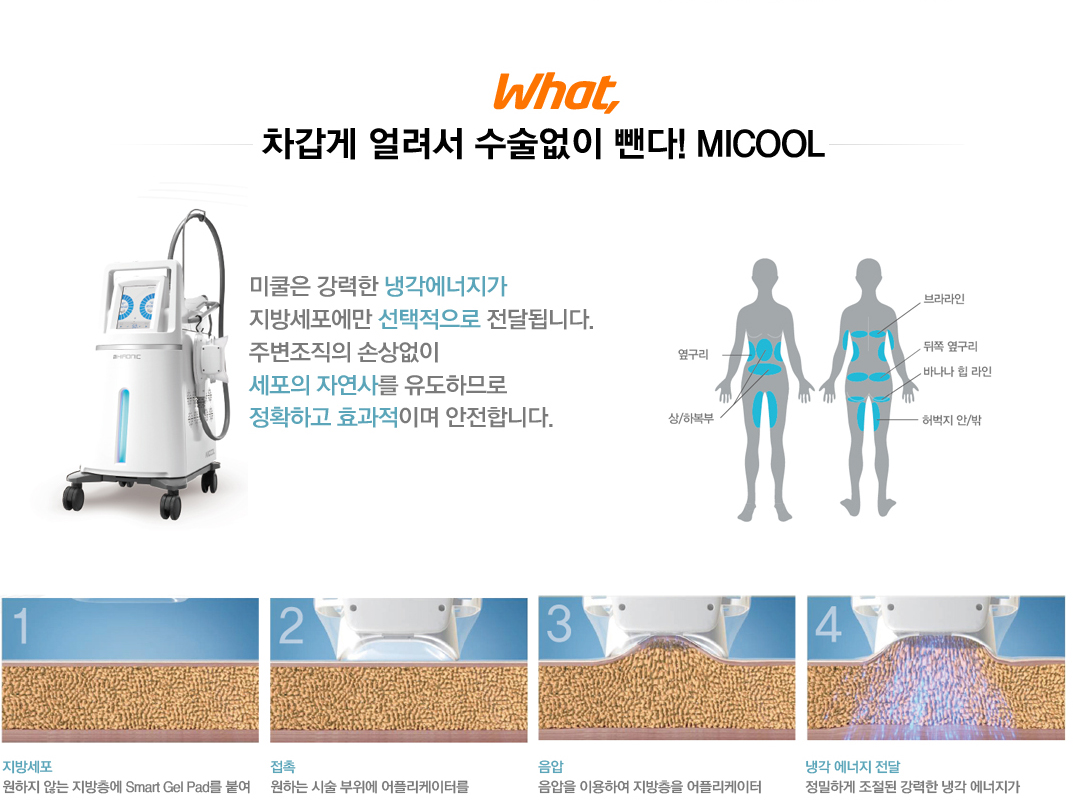 CoolSculpt is a procedure where you get your fat frozen. Over the period of 3 weeks to 3 months, your fat cells slowly break down and disappear. The fat cells are completely destroyed so they never come back. You can obviously get fat in other places, but the targeted area will see about a 30% reduction in fat. You can repeat the treatment several times to maximize results.
Korea has a version of this called Micool (미쿨). It's basically the same thing under another company's name. The best thing about having such procedures done in Korea is the cost. Back in California, one session (1 pad) of Coolsculpt runs for about $300 USD. In Korea? 37,000won + 10% VAT… so 40,700 per pad. One session consists of 2 pads = 81,400won. This is the current pricing at the clinic I go to in Daejeon (Alice Skin near Timeworld Galleria).
I was pretty nervous about this since reading online forums. However, the majority of reviews I've read were for CoolSculpt. Also, everyone responds to the treatment differently. I figured, if it hurt too much, I'd just ring the buzzer and discontinue the treatment. Luckily, it did not come to that.
1/18 – My first treatment area was perhaps the most evil of all, INNER THIGHS. I had the treatment room to myself since my appointment was one of the last ones for the day. I changed into this operating room skirt thing and the nurse rubbed this cool gel onto my treatment area. Then, she put another gel pad on top. It's like one of those cool pads you would put on your achy muscles. Then came these two suctions. It was uncomfortable at first… it felt like two giant vacuum hoses on high power sucking away at my inner thighs. After about 3 minutes, the high discomfort faded into a mild discomfort/annoyance… similar to that of attending a pointless meeting or being at work on a Saturday. The treatment lasted for 45 minutes, which flew by. The nurse came back in to take the contraption off my thighs and wipe the remaining gel away. I was then released into the wild.
1/21 – I came back after work for my second treatment area – THE STOMACH! My awful stomach is the result of not knowing how to exercise and hot cheetos. I went through a similar process with my first treatment. I changed into the operating skirt, chilled on the bed, and was fitted with the two suctions again. Supposedly, the stomach is the most sensitive area. The high discomfort lasted for about 10 minutes before it started to fade. I was slightly more uncomfortable this time than I was on Monday. When the nurse took off the suctions, I could clearly see two spam slice-sized blocks of skin/fat. Instead of just wiping off the remaining gel with a towel, the nurse used a cotton towel to wipe it off. In the process of doing so, she pressed down on the fat blocks to flatten it out. When I left, my stomach had a stingy, warm feeling. Kind of like sunburn meets allergic reaction. Okay, maybe not that dramatic, but it was uncomfortable. That feeling lasted about 10 minutes before disappearing. The treated area on my stomach was very sensitive to touch and had a bruise where the edges of the suctions were.
I am supposed to "see" results starting from Week 3 all the way up to Month 3. It is recommended that I treat the areas for a second time to get better results. I am all for that. It's super affordable in Korea and the before and after pictures from real Naver bloggers are giving me hope. My goal is to not look like a butterball by the May field trip at Seoul Forest haha. I am going back this Thursday to treat my back thighs… another morbid looking area.